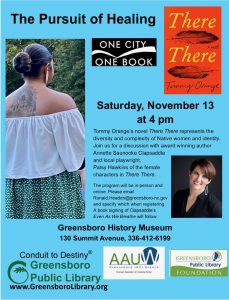 November 13, 4:00 p.m. at the Greensboro History Museum
The Greensboro American Association of University Women (AAUW)  and Greensboro History Museum are co-sponsoring this event. This discussion will be available in-person and online; specify which when registering. Please call 336-412-6199 to register for in-person or Zoom participation. This is a featured event in the One City One Book program. Indigenous women are often stereotyped in our culture and have been throughout history. Misrepresentation continues to be a tool that perpetuates the devaluation of Native women, and consequently, violence against Native women. The panel will begin with a discussion of the female characters of There, There by Tommy Orange.
                   PANELISTS INCLUDE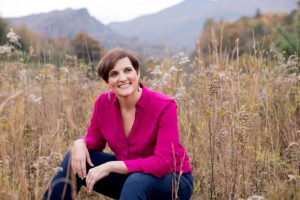 Annette Saunooke Clapsaddle is an enrolled member of the Eastern Band of Cherokee Indians and resides in Qualla, NC with her husband, Evan and sons Ross and Charlie. She holds degrees from Yale University and the College of William and Mary. Her debut novel, Even As We Breathe, was released by the University Press of Kentucky in 2020, and named one of National Public Radio's Best Books of 2020.
Her first novel manuscript, Going to Water is winner of the Morning Star Award for Creative Writing from the Native American Literature Symposium (2012) and a finalist for the PEN/Bellwether Prize for Socially Engaged Fiction (2014). Clapsaddle's work has appeared in Yes! Magazine, Lit Hub, Smoky Mountain Living Magazine, and The Atlantic. After serving as executive director of the Cherokee Preservation Foundation, Annette returned to teaching at Swain County High School. She is the former co-editor of the Journal of Cherokee Studies and serves on the board of trustees for the North Carolina Writers Network.
A book signing of Clapsaddle's book will follow the presentation. Books may be purchased in advance at Scuppernong Books.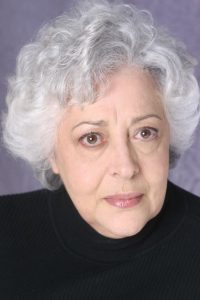 Patsy Hawkins of Greensboro graduated from East Carolina College (University) in 1966 with a B.S. degree in English. She has taught Junior and Senior High School English, GED classes, and theatre classes. Patsy has been involved with community theatre mainly as a stage actor for the past 34 years. She has not only done print work, commercials, readings, but has also written several short plays.
Most recently as a member of Shared Radiance, Patsy wrote and performed a monologue for Sisters of Mine sharing the indigenous peoples of the Haudenosaunee Confederacy influence as it enhanced the women's right to vote.
Patsy is an  enrolled member of the Lumbee Indians of Robeson County, NC. She has written a full-length play The Dragonflies' Daughters that includes many stories from her extended family about the Lumbees and their experiences with Jim Crow.  The play provides a view into some of the racial issues that the Lumbee have dealt with even up to today.