| | | |
| --- | --- | --- |
| Registration is now closed | | |
Triad TechSavvy is back in Greensboro for its second year! The day-long event will be held on March 28, 2015 – Save the date! – Tech Savvy Flyer 2015
Registration is now closed.
NOTE: The event is open to any county in NC.  We encourage group participation from any school. School staff who bring 5 or more girls will get a free registration. Staff can either have students (and parents/guardians) register online separately and make their respective payments or a staff can collect all the information needed (including payment) from their students and register at one time by adding another registration at the end of the online form. Staff can then email triadtechsavvy@gmail.com with details so we can provide them with a free registration.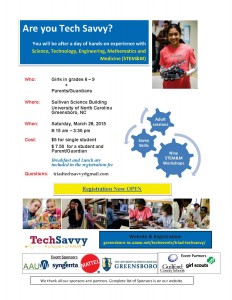 Triad Tech Savvy 2015 PressRelease
During the last 5 years The American Association of University Women (AAUW Greensboro) has partnered with the University of North Carolina Greensboro (UNCG) to offer highly successful activities for middle school girls.  We offered Triad TechSavvy, a one day "Science, Math, Engineering and Technology (STEM) Day in March 2014 at UNCG.
The event on Saturday March 28, 2015 will be based on a STEM&M (Science, Math, Engineering, Technology and Medicine) theme and will include hands-on workshops in the health-related sciences.
Background:
Tech Savvy is a daylong science, technology, engineering, and math (STEM) career conference designed to attract girls in sixth through ninth grade to these fields and to inform families about STEM education and careers. The AAUW Buffalo (NY) Branch, led by former branch president Tamara Brown, launched the first Tech Savvy in 2005 at the University of Buffalo. Founder Brown was named a 2011 Champion of Change at the White House by President Barack Obama.
2015 TechSavvy Program in Greensboro
AAUW Greensboro Branch in Collaboration with UNCG has been selected to be one of fifteen sites across the United States to be patterned after TechSavvy – Powered by AAUW.  Funding for this event comes from AAUW (National) and local entities.  Local University collaborators with UNCG this year will be:  NC A & T State University, the Joint School of Nanoscience and Nanoengineering and Guilford College.
The Tech Savvy program at UNCG will incorporate several key features:
Local female teachers, professors, and professionals lead hands-on workshops.
Girls learn about a variety of STEM&M professions.
Girls gain "Savvy skills"  i.e. critical non-tech skills such as public speaking, presentation, and building a successful resume will be covered during the day.
Adults can learn about the activities the girls receive as well participate in sessions to learn about how to support girls in STEM and plan for higher education.
Tech Savvy Activities
The day-long event will feature a plenary session with an invited Keynote speaker, several hands-on sessions in STEM&M fields, a College Savvy session and a Savvy skills session for girls. Adults will attend the plenary session as well as a parallel program that will include planning and financing higher education.
Workshop Descriptions
Create animations and video games

using MIT's "SCRATCH" software – Scratch (http://scratch.mit.edu) is a programming environment that was designed specifically to allow people to quickly begin creating their own interactive stories, animations, games, music, and art.  It is a project of the MIT Media Lab's "Lifelong Kindergarten Group," and is widely used to enable students to explore their digital creativity.
LEGO® Robotics – work with robotic sets that allow your student to bring their toys to life.
Natural Nanomaterials:  Students will realize the correlation between nanostructures and properties of natural nanomaterials they use on a daily basis.
"Three Geometries is Better Than One": People spent thousands of years trying to prove something that seemed so obviously true and yet turned out to be false: that there is only one geometry, that of the plane. In fact, there are three models: the plane, a sphere, and something that looks like a lettuce leaf. Come explore these interesting spaces, we will be using lots of papers, tape, and scissors. No background is necessary.
"Born to care: A day in the life of a Nurse": Simulate resuscitation and care of sick infants through "hands on" activities using patient care manikens and healthcare technology to experience a typical day of nursing.

"Gluep anyone?

": Learn about the fascinating properties of polymers by making and experimenting.
"Mechatronics": The latest buzzword in manufacturing is Mechatronics. A widely accepted career in Europe since the nineties, Mechatronics has only recently been recognized as a new career opportunity in North Carolina. Mechatronics is a combination of mechanical engineering, electrical engineering, electronics, information technology and intelligent systems utilized in the design of products and computer integrated automation systems.
"

Do you see how we see?

": Learn about the Physics of our vision using a model eye, explore what defective eyesight means and why some of you need corrective eyeglasses.
"

That's how you build a webpage!

": Learn the tools of we designing through this interactive session.
Past Events: