2018 NCCWSL scholarship attendees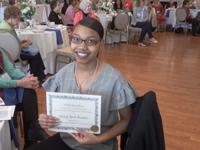 Nandi Reed Brandele, Bennett College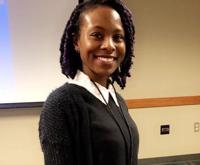 Miesha Moore, UNCG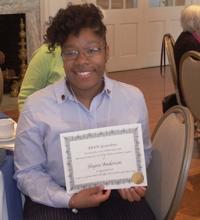 Shyree Anderson, NC A&T State University
The American Association of University Women Greensboro Branch has presented three scholarships to local students to attend the National Conference of College Women Student Leaders on May 30-June 2 at College Park, Md.
Recipients are: Shyree Anderson, a sophomore at N.C. A&T; Miesha Moore, a junior at UNC-Greensboro; and Nandi Reed-Bandele, a freshman at Bennett College.
Nationally, AAUW has more than 800 college and university partnerships. The Greensboro AAUW College/University Partnership committee, led by Cristina Moreira, offers programs and opportunities that allow undergraduate students free e-affiliate membership, provides grants and fellowships for faculty and graduate students and offers training in salary negotiation skills for college juniors and seniors.
The NCCWSL scholarship program is a sustaining effort on the part the local branch to encourage young women to advance leadership skills, inspire change and establish a pre-professional network toward successful careers.
For more information about future scholarship opportunities, please contact:
Kimberly Kappler Hewitt, Ph.D.
Assistant Professor
Department of Educational Leadership and Cultural Foundations
FTLC Fellow for Teaching with Technology and Online Learning
University of North Carolina at Greensboro
School of Education Building, Rm. 352
1300 Spring Garden St.
Greensboro, NC 27412
336-430-2360 (Cell)
kkhewitt@uncg.edu