NEW

September 5 to December 19, 2020

– Code for Change
Code for a Change is a program designed to introduce girls to the basics of electronics with an emphasis on the integration of Arduino and Raspberry Pi technologies. Participants will work collaboratively with these technologies to identify and present a solution to a real-world social issue of their choice.  Provided by Kimberly and AAUW Greensboro Registration is closed for this program. Please contact the Program Leader for information about a waitlist.
---
We are very excited about our upcoming virtual camp August 3rd through 7th for home based students. Each student has received a backpack kits that includes a programmable robotic, a set of Arduino Internet of Things, and other valuable and fun materials. On line classes will be scheduled during the day, interspersed with assignments that the students will do all week as they work toward their final projects for virtual presentations on Friday, August 7th. We are especially grateful to the National Center of Women & Information Technology for their flexibility and support.
RECENT EVENTS
We are so happy about our ongoing collaboration with the High Point Library. 
2- Spring web-based training has been offered to those students who were originally scheduled to attend Triad Tech Savvy on March 21st 2020. Here are some photos from the on-line lessons and classes.
Roma Desai is teaching code.org and her students have progressed through html web design and are on APP Design using JavaScript.
4- Codeista winter program with the Leader, Suhani Ramchandra, concluded:
ARCHIVED VIDEOS AND EVENT REPORTS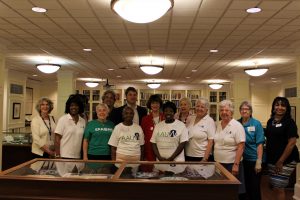 2018-2019 STEM events in review:
Resources from 2018-2019 events
---
News, recognition, awards:
---