IT Is For Girls August 3 – 7th – Camp in a Backpack. pre-registration
We are very excited to announce that we will offer a virtual camp August 3rd through 7th for home based students. Due to the limitations of technology, and the fact that we are providing a fully equipped backpack, we can only accept 48 students. Pre-registration is open to the first 48 students currently in grades 5 through 8 – and then we will accept a wait list through May 30th. During June we will issue the detailed schedule and materials that students will use during the week – and keep for further practice and enjoyment. The backpack kits will include a programmable robotic, a set of Arduino Internet of Things, and other valuable and fun materials. On line classes will be scheduled during the day, interspersed with assignments that the students will do all week as they work toward their final projects for virtual presentations on Friday, August 7th. I hope you will join us in this exciting initiative. We are especially grateful to the National Center of Women & Information Technology for their flexibility and support.
Spring web-based training has been offered to those students who were originally scheduled to attend Triad Tech Savvy on March 21st 2020. Here are some photos from the on-line lessons and classes.
Roma Desai is teaching code.org and her students have progressed through html web design and are on APP Design using JavaScript.
Codeista students will receive e-mail instructions from the Leader, Suhani Ramchandra, for the remainder of the program.
IT IS FOR GIRLS CAMP, August 3rd through August 7th, 2020, 8 am to 5 pm for 5th through 8th grade girls.  Registration will open on Saturday March 21st for those attending Triad Tech Savvy.
ARCHIVED VIDEOS AND EVENT REPORTS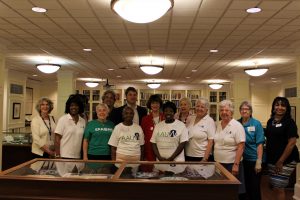 2018-2019 STEM events in review:
Resources from 2018-2019 events
---
News, recognition, awards:
---