JULY 2021 through JANUARY 2022 PROGRAMS
UPCOMING EVENTS:
January 9th through February 13 – Careers in STEM – REGISTRATION LINK
Intro to Engineering:  Sunday, 2:30 to 3:30, January 9th through February 13 – five, one-hour virtual presentations and discussion about preparing for careers in engineering. Developer and Moderator, Anika Dupreez.
Intro to Health Science: Saturday, 4:00 to 5:00 p.m., February 5th one, one-hour virtual presentation and discussion about preparing for careers in health sciences. Developer and Moderator Ayanna Sharma.
February 19th through March 19th – Saturday afternoon 12:30 to 2:30 CAD Design and Manufacturing – REGISTRATION LINK  
3D Jewelry Design using TinkerCAD on February 19th at 12:30. This TechGirlz virtual program will kick off a series of two-hour hands-on activities for girls to master TinkerCAD Design and 3 D printing. We hope to have some of these programs in person. Developer and Instructor Grace Fei. Details to follow.
March 5th – Saturday afternoon 9:30 to 2:30 FIND YOUR STEM –

REGISTRATION LINK and event information pending….
Find Your STEM 8th through 12th grade conference for young women in high school, those preparing for high school, and those preparing for post-secondary studies and careers. Find Your STEM 2022 poster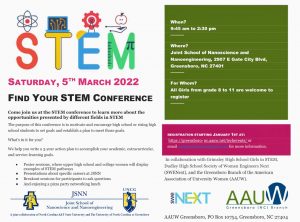 PARENT UPDATE NEWSLETTER – open, subscribe, view past issues
RECENT PAST EVENTS AND PROGRAMS:
TRIAD TECH SAVVY RETURNED on OCTOBER 16 2021 AT THE HIGH POINT LIBRARY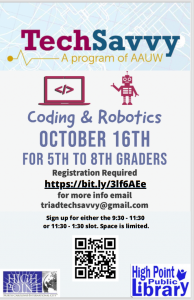 November 6th TechGirlz Lights Camera Action – a 2-hour virtual class on videography using Adobe Spark. Lauryn Wynn instructor.
   
---
IT IS FOR GIRLS April 1, 2021 through June 25, 2021
PRE-REGISTRATION is closed as of May 15th. For information contact Laura Tew
-Roma Desai will lead Girls Code the Web with funding from the National Center of Women &  Information Technology.  
-Sanvi Korsapathy will lead Tech Tank Incubator with funding from the National Center of  Women & Information Technology.  
-Hope Stephens will lead Robots on the Run with funding from the National Center of Women &  Information Technology. 
-Terra McKee, doctoral candidate at North Carolina A&T State University will lead GIS & Drones. 
---
CODEISTA –
programming skills using Alice 2.0; 
---
September 5 to October 31, 2020

– Code for Change
Code for a Change is a program designed to introduce girls to the basics of electronics with an emphasis on the integration of Arduino and Raspberry Pi technologies. Participants will work collaboratively with these technologies to identify and present a solution to a real-world social issue of their choice.  Provided by Kimberly and AAUW Greensboro with support from the National Center of Women & Information Technology.
---
TECHGIRLZ events sponsored by AAUW Greensboro
Lights, Camera, Action leader Lauryn Wynn
Cybersecurity leader Riya Kannan
3-D Design and Manufacturing with TinkerCAD
---
2020 IT IS FOR GIRLS CAMP
Our camp was a huge success!! We are appreciative of our sponsor, National Center for Women & Information Technology, our leaders (Kimberly, Suhani, Janice, and Hope), our coordinator Christa, all of the volunteers and parents – and ESPECIALLY OUR STUDENTS who worked so hard to complete their projects in this virtual environment.
We are so happy about our ongoing collaboration with the High Point Library. 

---
1 –

Grimsley Girls in STEM

FREE online camp 2020 July 13 to 17th

.
2- Spring web-based training has been offered to those students who were originally scheduled to attend Triad Tech Savvy on March 21st 2020. Here are some photos from the on-line lessons and classes.
Roma Desai is teaching code.org and her students have progressed through html web design and are on APP Design using JavaScript.
4- Codeista winter program with the Leader, Suhani Ramchandra, concluded:
ARCHIVED VIDEOS AND EVENT REPORTS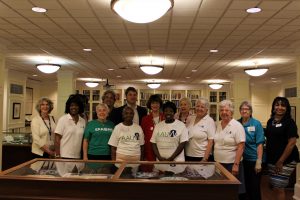 2018-2019 STEM events in review:
Resources from 2018-2019 events
---
News, recognition, awards:
---