September 5 to October 31, 2020

– Code for Change
Code for a Change is a program designed to introduce girls to the basics of electronics with an emphasis on the integration of Arduino and Raspberry Pi technologies. Participants will work collaboratively with these technologies to identify and present a solution to a real-world social issue of their choice.  Provided by Kimberly and AAUW Greensboro with support from the National Center of Women & Information Technology.
---
RECENT EVENTS
October 17, 12:30 to 2:30 – Lights, Camera, Action from TechGirlz, AAUW, and Lauryn Wynn
Our camp was a huge success!! We are appreciative of our sponsor, National Center for Women & Information Technology, our leaders (Kimberly, Suhani, Janice, and Hope), our coordinator Christa, all of the volunteers and parents – and ESPECIALLY OUR STUDENTS who worked so hard to complete their projects in this virtual environment.
We are so happy about our ongoing collaboration with the High Point Library. 
2- Spring web-based training has been offered to those students who were originally scheduled to attend Triad Tech Savvy on March 21st 2020. Here are some photos from the on-line lessons and classes.
Roma Desai is teaching code.org and her students have progressed through html web design and are on APP Design using JavaScript.
4- Codeista winter program with the Leader, Suhani Ramchandra, concluded:
ARCHIVED VIDEOS AND EVENT REPORTS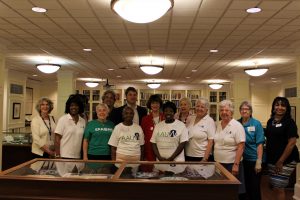 2018-2019 STEM events in review:
Resources from 2018-2019 events
---
News, recognition, awards:
---