June 13 to 17 Intersection at UNC Greensboro: Technology and Innovation Explored Through Fashion, Architecture, and the Arts
The five-day camp featured UNCG degree programs with strong technology components. Students were introduced to college level software tools that included music composition and production, computer aided design, and animation.
Appalachian State University, AAUW CU Partner Programs
July 17th to 29th – Technovation for Good, made possible by Alex Lee, Inc., is a residential program for rising high school seniors. The program, located at Appalachian State university, provides hands-on, practical experience with Programming, Cybersecurity, Data Analytics, Mobile Application Development, Sustainability, Analytics and/or Internet of Things. In addition, this program offers students an opportunity to learn entrepreneurial and leadership skill sets, hear from local professionals, meet other students with similar career interests, and attend workshops to enhance IT and business skills in a college setting. Details
July 25th to 29th – Innovate for Good – rising 5th to 10 graders. at Appalachian State University. The weeklong camp will be held at Appalachian State University from Monday, July 25th – Friday, July 29th, 2022. Overnight campers will check-in Sunday July 24th between 2 and 4 pm. Day campers can check-in weekly between 8 and 8:45 am in the Walker College of Business lobby area. Pick up time for day campers will be between 4:15 and 5 pm. Separate accommodation will be provided for boys and girls who register for the residential option.   Details
Online Basic Computer Skills Course Offerings for 4th through 8th
July and August – Beginning, intermediate, and advance instruction by high school peers for middle school and upper elementary girls. Through a series of asynchronous tools, girls will be able to register for self-directed and individualized learning. They will not be in a class but will take the 45-minute tutorial and then become part of cohort of girls working with teen instructors to skills from App and Web design to animation, coding, and gaming.
Capstone Event – Triad Tech Savvy in October 
September and October Triad Tech Savvy Saturday along with an IT For Girls Summit. Location, date, and details to be announced.
RECENT PAST EVENTS AND PROGRAMS:
January 9th through February 13 – Careers in STEM – ON LINK
Intro to Engineering:  Sunday, 2:30 to 3:30, January 9th through February 13 – five, one-hour virtual presentations and discussion about preparing for careers in engineering. Developer and Moderator, Anika Dupreez.
Intro to Health Science: Saturday, 4:00 to 5:00 p.m., February 12th one, one-hour virtual presentation and discussion about preparing for careers in health sciences. Developer and Moderator Ayanna Sharma.
February 19th through March 19th – Saturday afternoon 12:30 to 2:30
CAD Design and Manufacturing – 
3D Jewelry Design using TinkerCAD on February 19th at 12:30. This TechGirlz virtual program will kick off a series of two-hour hands-on activities for girls to master TinkerCAD Design and 3 D printing. We hope to have some of these programs in person. Developer and Instructor Grace Fei. Details to follow.
March 5th – Saturday afternoon 9:30 to 2:30
FIND YOUR STEM – 
Newsletter about Find Your STEM
Find Your STEM 8th through 12th grade conference for young women in high school, those preparing for high school, and those preparing for post-secondary studies and careers. Find Your STEM 2022 poster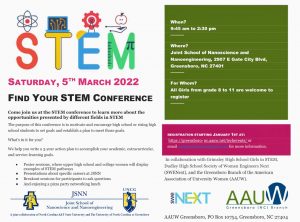 PARENT UPDATE NEWSLETTER – open, subscribe, view past issues
TRIAD TECH SAVVY RETURNED on OCTOBER 16 2021 AT THE HIGH POINT LIBRARY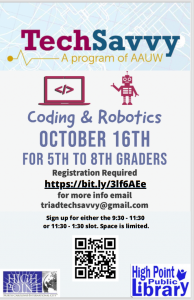 November 6th TechGirlz Lights Camera Action – a 2-hour virtual class on videography using Adobe Spark. Lauryn Wynn instructor.
   
---
IT IS FOR GIRLS April 1, 2021 through June 25, 2021
PRE-REGISTRATION is closed as of May 15th. For information contact Laura Tew
-Roma Desai will lead Girls Code the Web with funding from the National Center of Women &  Information Technology.  
-Sanvi Korsapathy will lead Tech Tank Incubator with funding from the National Center of  Women & Information Technology.  
-Hope Stephens will lead Robots on the Run with funding from the National Center of Women &  Information Technology. 
-Terra McKee, doctoral candidate at North Carolina A&T State University will lead GIS & Drones. 
---
CODEISTA –
programming skills using Alice 2.0; 
---
September 5 to October 31, 2020

– Code for Change
Code for a Change is a program designed to introduce girls to the basics of electronics with an emphasis on the integration of Arduino and Raspberry Pi technologies. Participants will work collaboratively with these technologies to identify and present a solution to a real-world social issue of their choice.  Provided by Kimberly and AAUW Greensboro with support from the National Center of Women & Information Technology.
---
TECHGIRLZ events sponsored by AAUW Greensboro
Lights, Camera, Action leader Lauryn Wynn
Cybersecurity leader Riya Kannan
3-D Design and Manufacturing with TinkerCAD
---
2020 IT IS FOR GIRLS CAMP
Our camp was a huge success!! We are appreciative of our sponsor, National Center for Women & Information Technology, our leaders (Kimberly, Suhani, Janice, and Hope), our coordinator Christa, all of the volunteers and parents – and ESPECIALLY OUR STUDENTS who worked so hard to complete their projects in this virtual environment.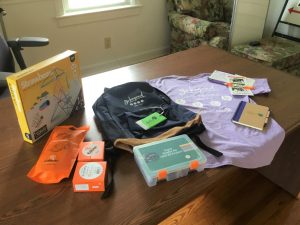 We are so happy about our ongoing collaboration with the High Point Library. 
---
1 –

Grimsley Girls in STEM

FREE online camp 2020 July 13 to 17th

.
2- Spring web-based training has been offered to those students who were originally scheduled to attend Triad Tech Savvy on March 21st 2020. Here are some photos from the on-line lessons and classes.
Roma Desai is teaching code.org and her students have progressed through html web design and are on APP Design using JavaScript.
4- Codeista winter program with the Leader, Suhani Ramchandra, concluded:
ARCHIVED VIDEOS AND EVENT REPORTS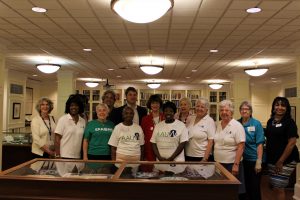 2018-2019 STEM events in review:
Resources from 2018-2019 events
---
News, recognition, awards:
---