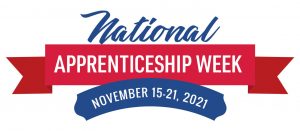 ApprenticeshipNC and AAUW Greensboro are celebrating National Apprenticeship Week (NAW) in a BIG way!  As Chair of Women in Nontraditional Careers (WINc) and now the State DEI Chair, I am excited to announce an upcoming event that will be held to celebrate women and diversity in the workforce.  Our very on AAUW Greensboro Branch member, Randi Francis of the Nehemiah Community Empowerment Center will be hosting an in-person event on Nov. 18 in Greensboro, NC to honor those that have completed her pre-apprentice and apprenticeship programs.  It will also serve as a signing ceremony for her new cohort of apprentices and an interest meeting for new potential candidates.  https://www.eventbrite.com/e/apprenticeship-awards-ceremonyinterest-meeting-the-nehemiah-center-tickets-205231421707
Laura Tew, President of the AAUW Greensboro Branch has submitted a Proclamation which is featured on the US Dept. of Labor's NAW websitewww.apprenticeship.gov/NAW and linked to the ApprenticeshipNC State website ApprenticeshipNC | NC Community Colleges.  The Proclamation can also be found on the AAUW Greensboro Branch website AAUW National Apprenticeship Week November 15 – 21 2021 | Greensboro (NC) Branch.
Here is more information about the Nehemiah Community Empowerment Center's Pre-apprenticeship/Apprenticeship and Phenomenal Women in STEM program:  https://vimeo.com/478693442.
Additionally, US Dept. of Labor has posted a list of upcoming National Apprenticeship Week (NAW) events, see below.  Registration is open now and you can register to attend these virtual events if your schedule permits.  These events provide great information about apprenticeship programs that are happening across the country! I have highlighted some that may be of particular interest to AAUW members. Hope you enjoy the rest of your week.
Highlighted events include:
Tiffany Jacobs, Apprenticeship Regional Coordinator, Piedmont Triad Region – Serving Alamance, Caswell, Davidson, Davie, Forsyth, Guilford, Randolph, Rockingham, Stokes, Surry, Yadkin Counties