FROM: Tiffany Jacobs, AAUW Greensboro Women in Non-traditional Careers (WINc) Committee Chair
Nehemiah Community Empowerment Center hosted a wonderful event Thursday evening, November 18th, celebrating National Apprenticeship Week and honoring National Women in Apprenticeship Day. This exciting event answered the call to action regarding Vice President, Kamala Harris' message about apprenticeship.
I attended virtually and spoke last night during their signing ceremony.  The program was opened by the President/CEO Pastor Randi Francis, who is also a proud AAUW Greensboro Branch member.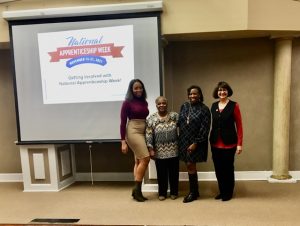 The Keynote Speaker was Monique Robinson (Mo on the Go), an African-American meteorologist from WFMY in Greensboro, who exemplifies Nehemiah's Phenomenal Women in STEM initiative.  AAUW (American Association of University Women) Greensboro Branch President, Laura Tew also spoke.  AAUW is committed to championing Women in Nontraditional Careers and increasing equitable access to opportunity for all underrepresented populations.  Melissa Smith, Business Services Director of GuilfordWorks Gear Up Adult Apprenticeship Program were also among the speakers.
Nehemiah's cohort of pre-apprentices were recognized for embarking on a new career pathway.
Terri Owens signed her apprenticeship agreement form for the occupation Computer Support Specialist
Andre Jones, also received his Journeyworker credentials for completing his apprenticeship as a Computer Support Specialist, and now as an incumbent worker he signed a new apprenticeship agreement to be trained as a Network Specialist for Nehemiah.
Patrice Bernard, a recent apprenticeship program completer received her Journeyworker credentials in the same occupation.
As I always say, "Jobs maintain, but careers sustain"!  In my speech I emphasized that "Diversity is a pre-requisite for creativity and innovation"! The Nehemiah Community Empowerment Center's pre-apprenticeship and apprenticeship programs are a shining example of this!